CALA BASSA BEACH CLUB
A beautiful beach with soft sands surrounded by a pine forest and a forest with hundred-year-old junipers, many of them endowed with magical shapes thanks to the wind.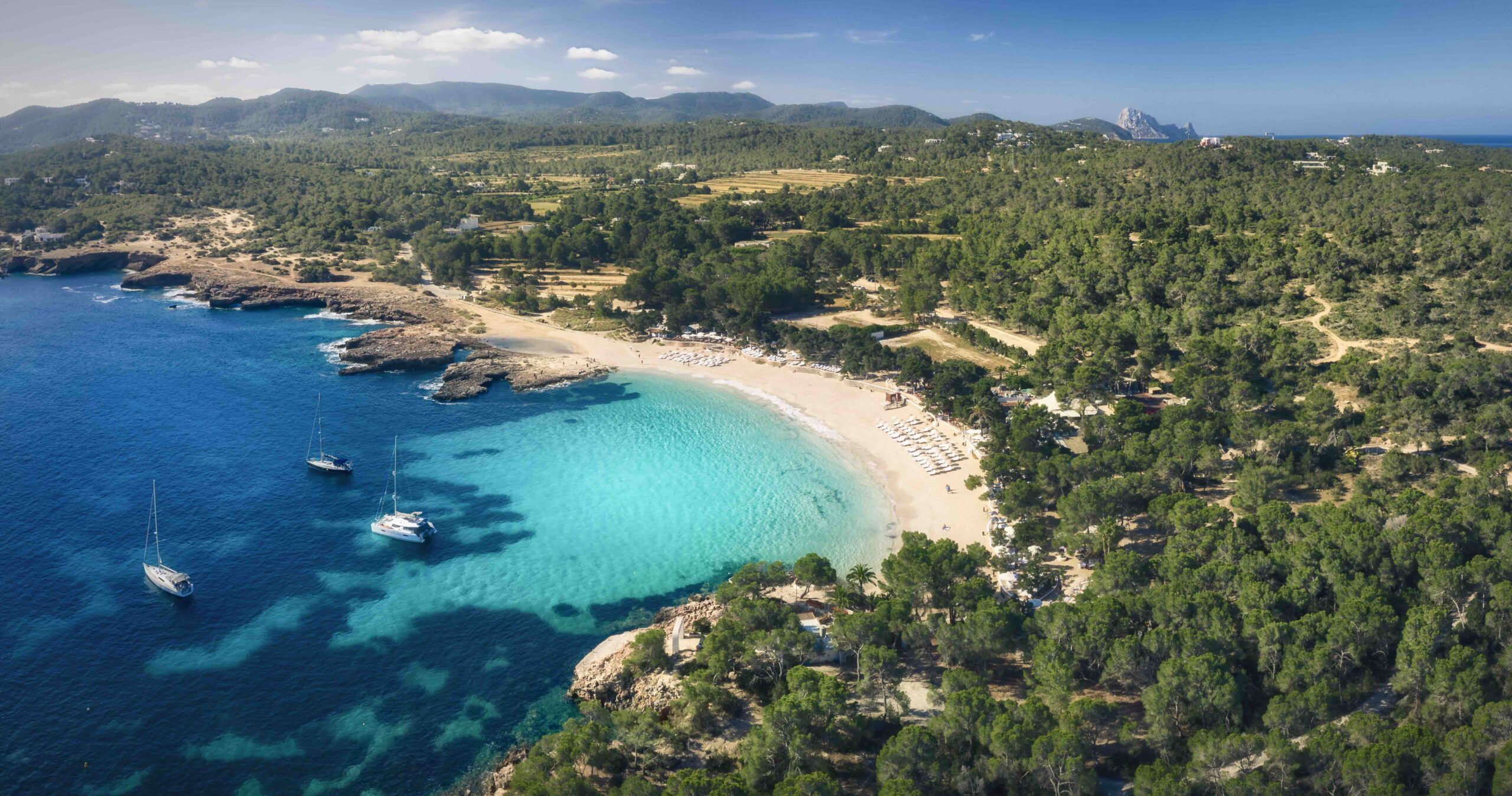 Bassa, in the local language, means pond, which is exactly the sensation transmitted when contemplating the calm turquoise waters of the bay. Cala Bassa beach Club occupies a privileged place in this idyllic spot surrounded by woods, but by the sea. It would be difficult to find a more charming place to have lunch or dinner. This unique corner by the beach is divided into several different dining areas.
Restaurant Central serves a fusion menu with delicious seafood, pasta and meat dishes. Chiringo offers a more traditional Mediterranean menu, with local delicacies such as bullit de peix and paella; on the other hand, Portobello has an interesting menu featuring Italian food. What's more, the flavors of the Mediterranean await you along with a wide range of sushi and gourmet dishes that you can enjoy in the different areas of this comprehensive restaurant.

As if that were not enough, the beach club offers much more: beach boutiques, a massage area, showers and water sports. In addition, its DJ plays a mix of lounge, chill-out and deep-house music, with performances almost every day of the week, which keeps the atmosphere relaxed and lively. If you want to enjoy a chilled moment while listening to the rhythm of the waves, the venue also has an area with loungers, beds and gazebos. You can choose between individual or group loungers, or opt for a private area for you and your friends. Relax on the beach in the shade of ancient junipers while you drink cava sangria and let time flow until dusk.

EBUSUS CBbC Restaurant
Located in Vara de Rey, inside a historic building belonging to the Ibiza Ebusus Cultural Society Association, which was founded in 1927, Ebusus is the place where first-class gastronomy and tradition merge with innovation. Start the morning with an extensive breakfast menu: toast, croissants, juices, coffees…

Following the precepts of the zero-kilometer philosophy, local products and seasonal ingredients are used to prepare classic Mediterranean and Ibizan recipes, but with modern touches. Every day is different: on Monday it could be salmon; on Wednesday, marinara-style skewered hake; on Thursday, lobster paella. Oh, and this year sushi has been added to the menu. Whatever the day, Ebusus more than delivers.

CBbC MARINA STA EULALIA
Located next to Santa Eularia marina, this restaurant offers the best of local gastronomy all year round. There is something relaxing about enjoying a cocktail (or two) while listening to the water gently lapping against the yachts and boats moored a few meters away. Live music adds a touch of warmth to the occasion. But what about the food? There is an interesting and extensive menu of Mediterranean food, as well as dishes of the day.
This year, as a novelty, you can also try Japanese food: sushi, sashimi, nigiris… all of them are a hit, as well as original creations such as pork rib bao with yakinikumayonnaise. Open every day from 1pm to 12am.


CBbC COSTA RODONA
It is sad, but true: summer doesn't last forever. But that doesn't mean we can't continue to enjoy it during the rest of the year: CBbC Group has imbued the Snow Lounge in Andorra with the spirit of its Ibizan establishments. With a snowy Pas de la Casa as a backdrop, both the restaurant and the après-ski area pay equal attention to the quality of the food, attention to detail and jovial spirit.